'Vedmarg – Student App' is a mobile application for students to allow them to monitor and administer their own performance systematically. Students can keep an eye on his records through Vedmarg student mobile app. In this article, we will share the top benefits, features and modules of Vedmarg student mobile app.
The students can set goals for themselves and can track their progress on their own. Furthermore, They are permitted 24/7 access to the resources and digital learning materials which they can avail of at any time. In addition to this, The students will get regular updates, event notifications, reminders, and alerts, and they can download the examination schedule, admit card, report card, and fee receipt by logging into their account directly. 
Vedmarg Student Mobile App: Available on Google Play Store
The 'Vedmarg Student Application' establishes a strong sense of communication between the stakeholders. This way the student can stay in touch with the school outside the school premises as well.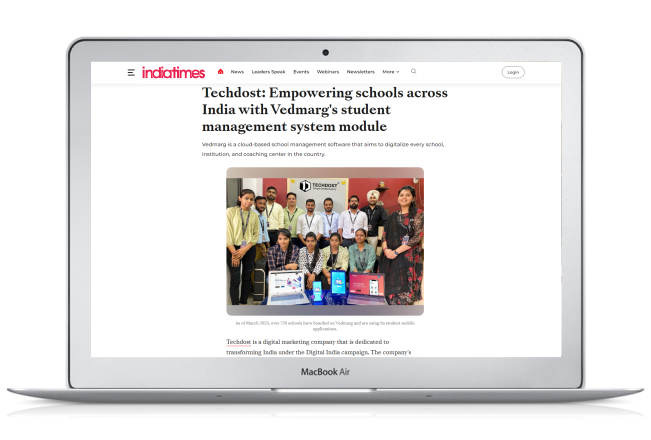 The 'Vedmarg – Student Application' was recently launched by 'TechDost Services' for its product called 'Vedmarg'. Vedmarg is a flagship product of 'TechDost', an IT Company based in NCR. 
Looking for Vedmarg School App: Download from Google Play Store
The 'Vedmarg – Student Application' offers a broad range of potential features.
Top Features of Vedmarg Student App
Profile Section (Menu Options)
Here, student can see all the available options, features and modules.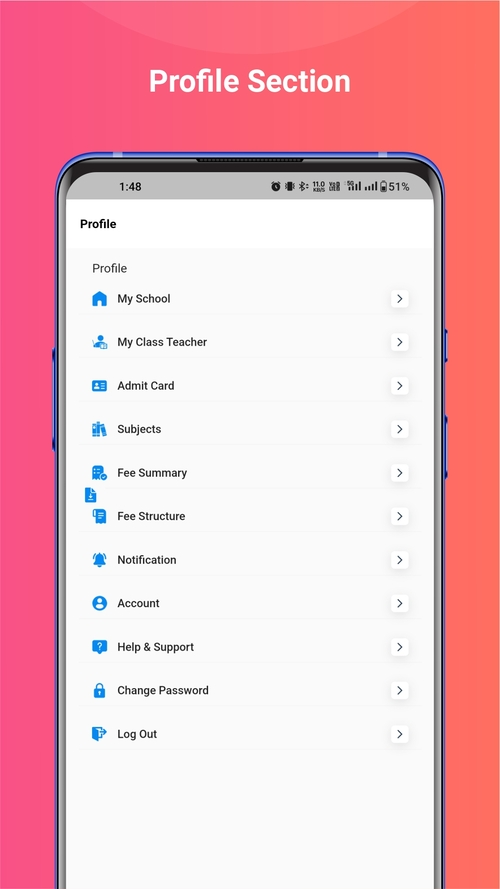 Real Time Notifications
If any student or parent having the app installed on their mobile, they will get real-time notifications for various actions, activities and from school side.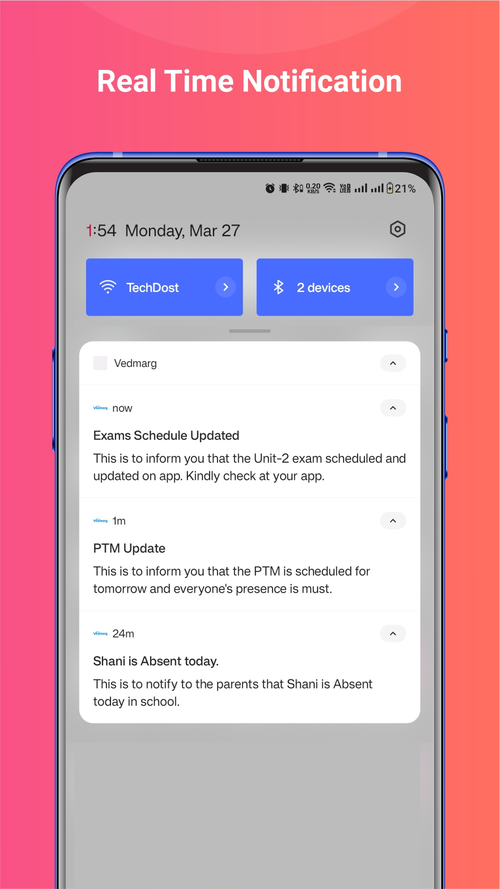 Attendance Tracking
Tracking is a monitoring system that enables you to keep track of an individual student's time and attendance.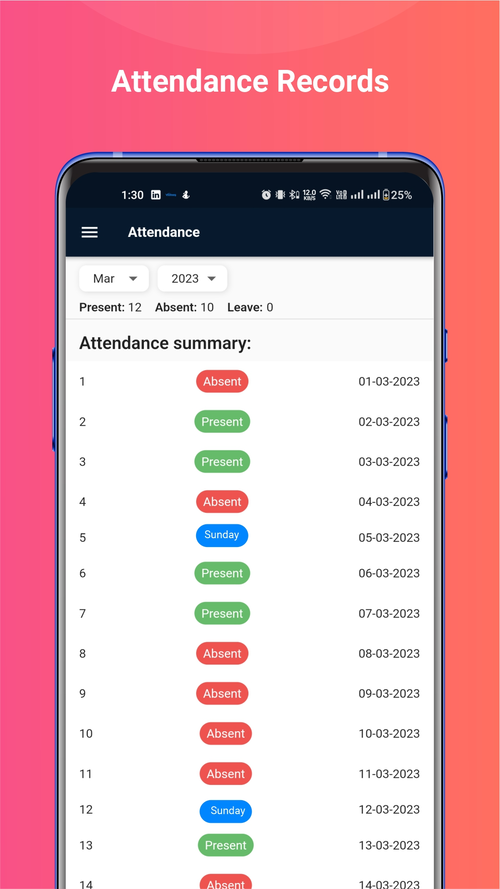 The system keeps an eye on their punch-in & out timings, and leaves. A Biometric system takes care of all these activities. 
The traditional method of maintaining daily attendance has become disused. Manual handling of data can lead to inaccuracy and inexact information. Therefore, The 'Vedmarg – Student Application' is the digital solution that is the need of the hour to regulate and maintain data accuracy. 
The integration of technology in the education sector ensures data validation and promotes efficiency. 
Fee Structure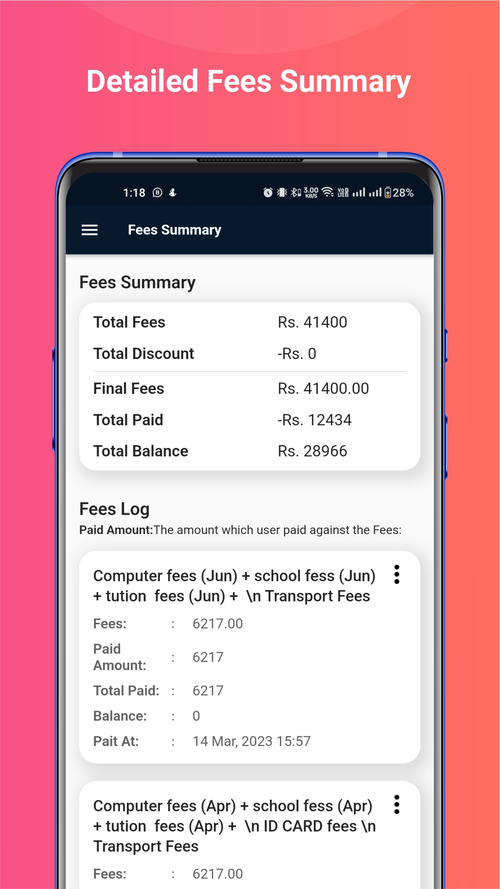 Fee Structure is a chart that highlights the detailed structure of the school fees of an individual student. 
The Student Application enables you to stay updated with your fee status. The fee structure is divided into different groups that are as follows: 
Admission Fee

Registration Fee

Tuition Fee

SMS and App Fee

Other types of fees if school have
Each group consists of 5 fields each that are as follows:
Fees

Discount

Final fees

Paid Fees

Balance Amount
You can view the 'Fees Summary' that will give you an overview of the total paid fee and the balance fee. 
In a nutshell, The 'Vedmarg – Student Application' is a 1-step solution that helps in facilitating and tracking fee management considerably.  
SMS Updates, Reminders, & Fee Alerts
SMS is a widely used communication channel that develops a strong connection between two parties. Vedmarg student mobile has a complete SMS management system for schools and students.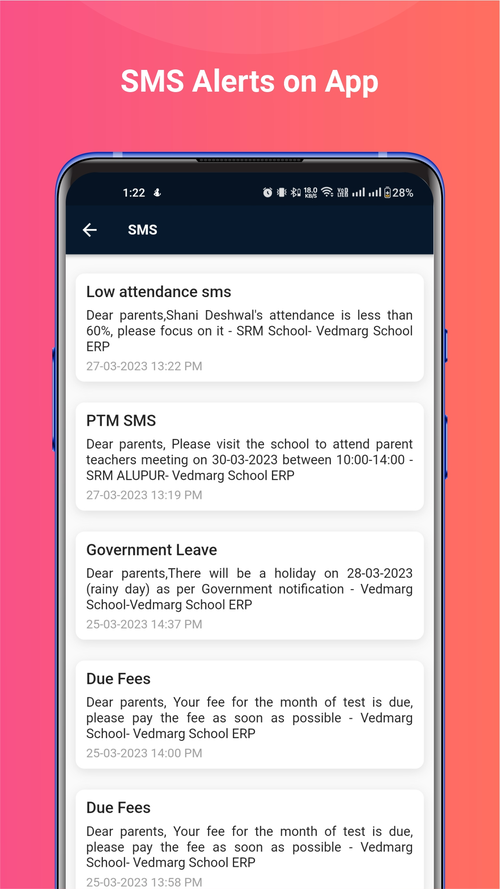 'Vedmarg – Student Application' has developed an SMS alert system that floats vital information to students. 
The students will get event updates, late fee reminders, and daily alerts that stimulate the student-to-school connection to a greater extent.  
Here are the types of alerts a student will get from our Student Application:
Late Fee Reminder

Low Attendance Alert

Examination Alert

Fee Paid SMS

Leave Alert

Government Holiday Alert

PTM SMS

Due Fee Alert, etc. 
With these SMS and Alerts Services, the 'Vedmarg – Student Application' builds trust, ensures transparency, and establishes a seamless relationship between the two stakeholders. 
ID Card Generation
The student application enables the individual student to download their ID Card by login into their account. The card will have all the necessary details pertaining to the individual student. 
Report Card Generation
A report card is the result of a student's dedication and hard work that is being done throughout the year. But it is a time-absorbing responsibility for the teachers to carry out the performance chart of an individual student with paramount accuracy. 
Therefore, 'Vedmarg – Student Application' refines the process of generating report cards by being associated with a dedicated database. 
Admit Card Download
With 'Vedmarg – Student Application', the student can download their admit card in a second without any hassle or difficulty. 
This showcases the coherence and lucidity of our Student Application. 
Features Under Development (28-Apr-2023)
We are continuously working on new and latest features for Vedmarg student app. On 28th April, 2023, we are working on time table, online quiz, mark-sheet, and online payment gateway.
Conclusion
These are just a few top features of the Vedmarg Student Application. Our development team is tirelessly working to bring out more captivating features in the near future. You can download our 'Student Application' from Google PlayStore.  
Our support team is 24/7 active to assist you in case of any difficulty. Visit us at www.vedmarg.com or chat with us at +91-7500996633 to proceed further.