Technology has significantly transformed the education sector by bringing rapid change in the day-to-day activities of institutions. School management software is the ultimate solution for providing effective communication to all stakeholders with easy access to information, updates, and notifications. 
Sending a Notice via Online School ERP
Sharing important information with all the students consumes time and energy. But with the emergence of the Vedmarg School ERP System, it has become an easy task. The school ERP system enables you to save time and money by circulating a notice to everyone digitally. You can create a school notice online and send it to parents, teachers, and students in 1-go.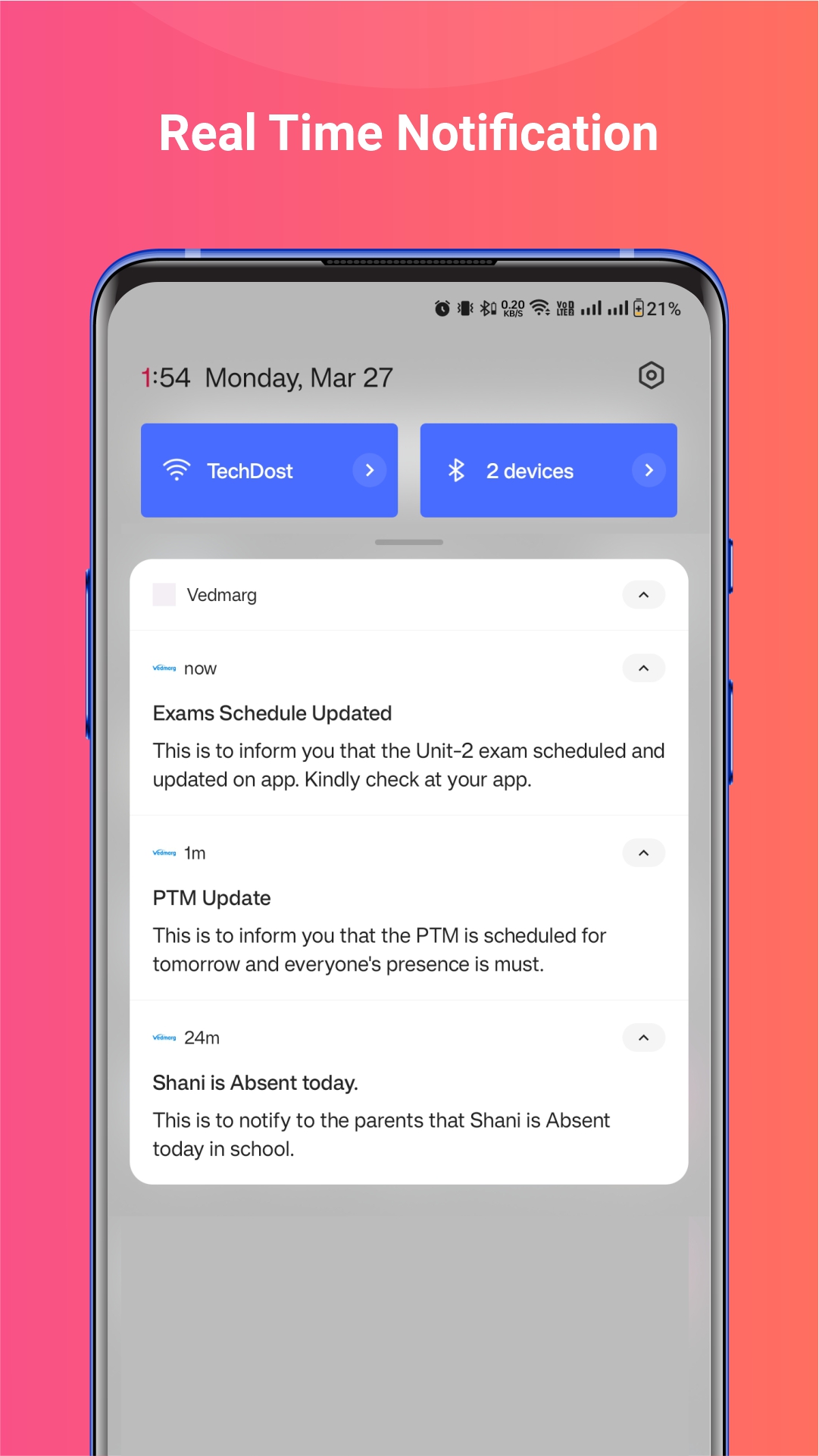 Download Vedmarg Student App: https://play.google.com/store/apps/details?id=com.vedmarg.app
The automation process enhances the productivity and efficiency of the system remarkably. 
Highlights About Notice Module
Admin can send notice to everyone/students/teachers/class wise/specific students etc.
Admin can give permission to any teacher/staff person to send notices.
Any permitted person can view and delete notices.
There is no limit for sending notices.
All notices are delivered on student mobile apps.
So, as you know that you can send unlimited notices to anyone using our Vedmarg admin app or web. You can send notice for PTM updates, fee reminders, holidays, meetings, trips, announcements etc. Let's have a look at the process:
How to Send a Notice in Vedmarg School ERP System 
You can send a notice to Vedmarg School ERP Software by following the mentioned steps:
Step 1:

In order to send a notice in Vedmarg School Management Software, you have to visit our website:

https://www.vedmarg.com

and there is an icon for the user account/dashboard.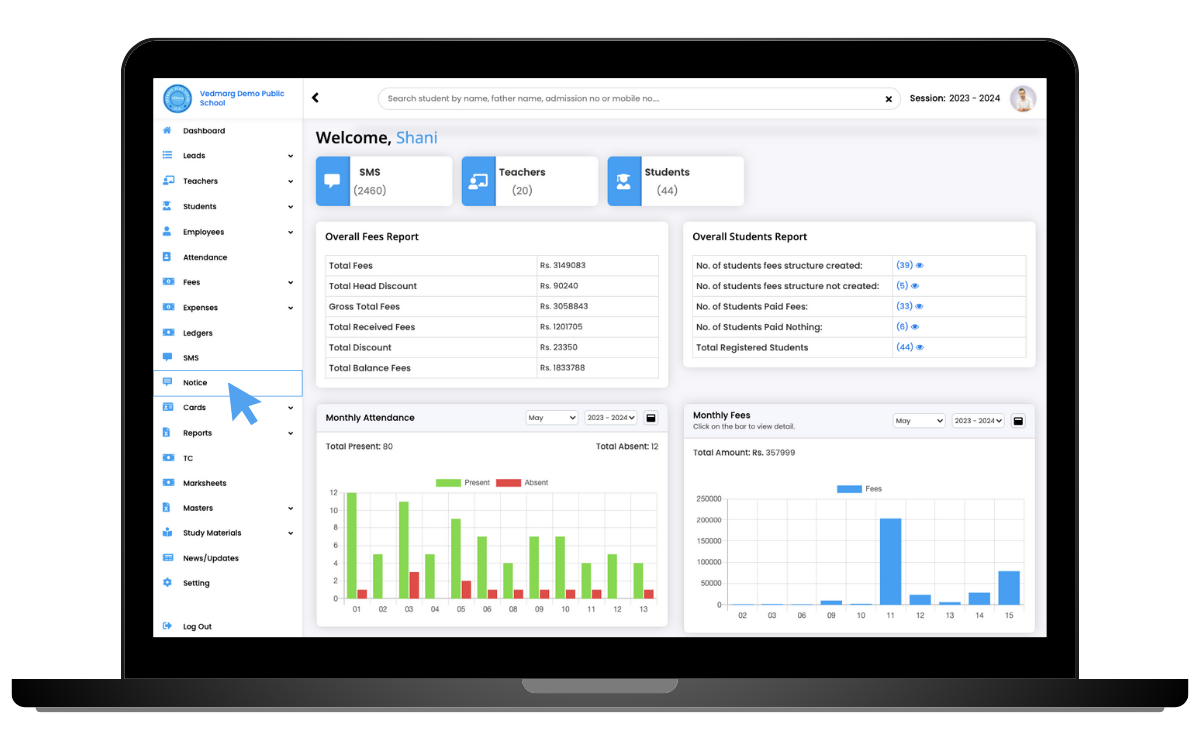 Step 3:

After logging into your

school management system

dashboard, go to the 'notice' section in the left sidebar menu.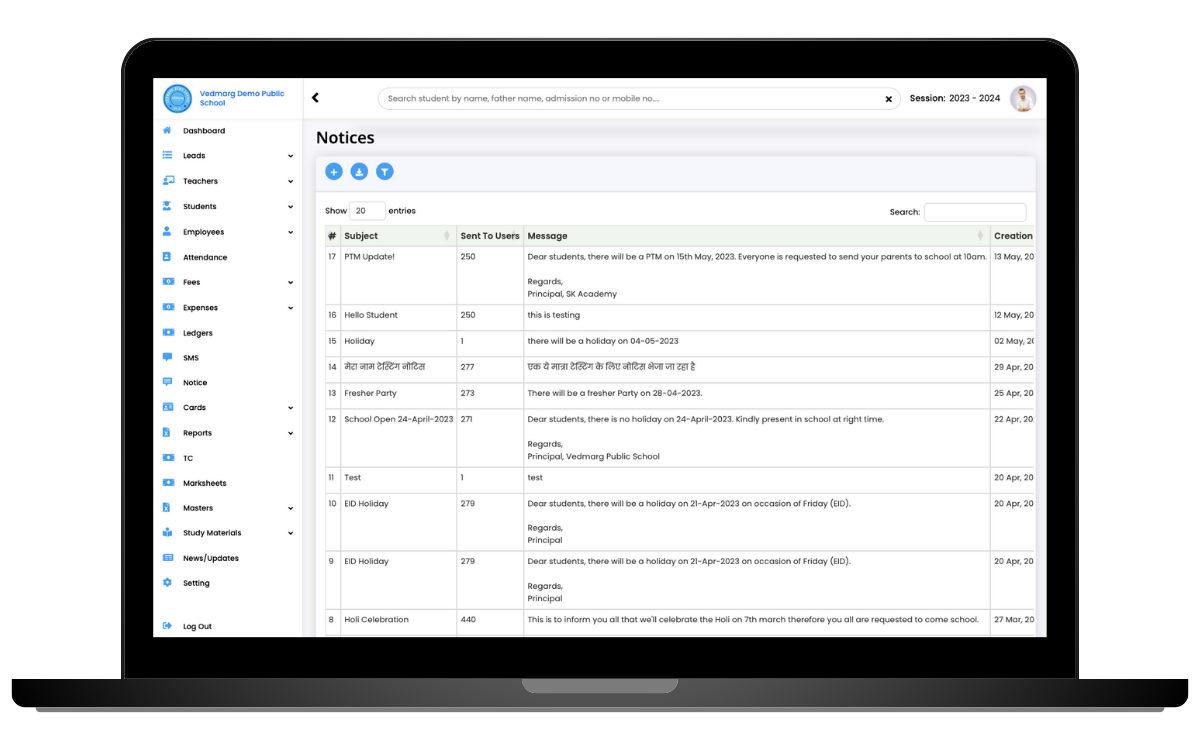 Direct Link to Notice Module: https://account.vedmarg.com/user/notices
Step 4:

Click on that particular option. It will redirect you to the notice page where you can send, view or delete previous notices.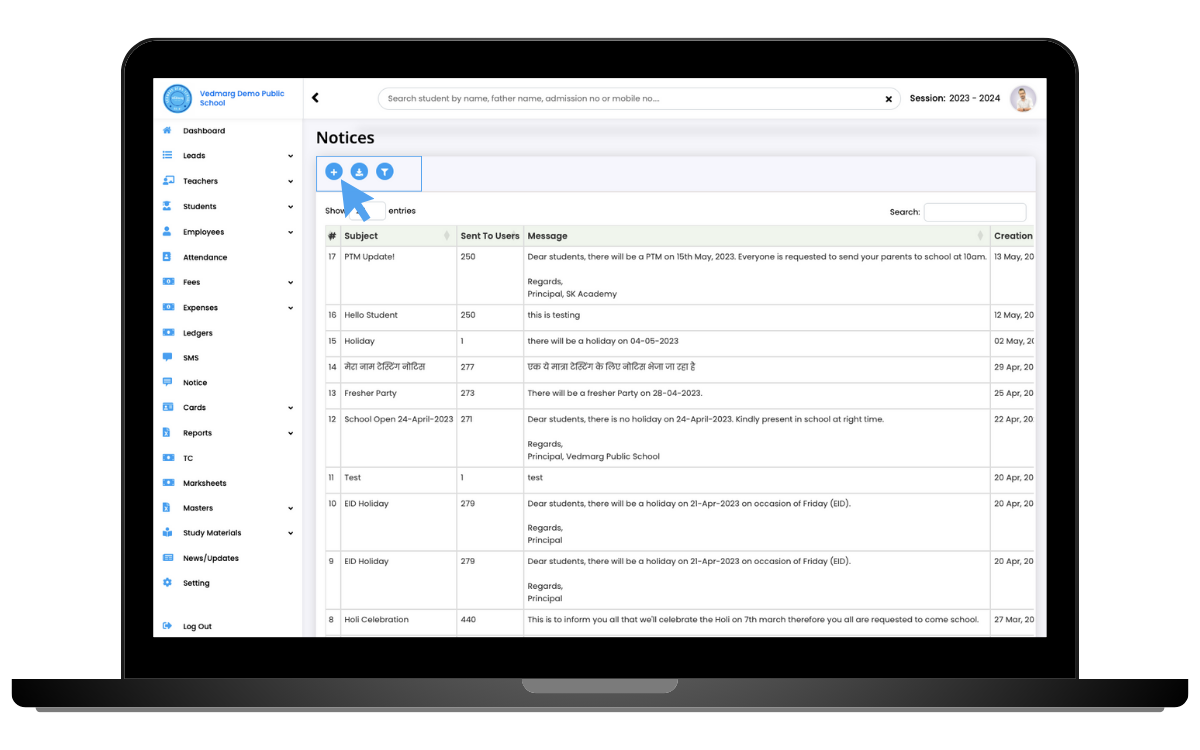 Step 5:

In order to send a notice, you need to click on the '+' symbol in the upper-left corner.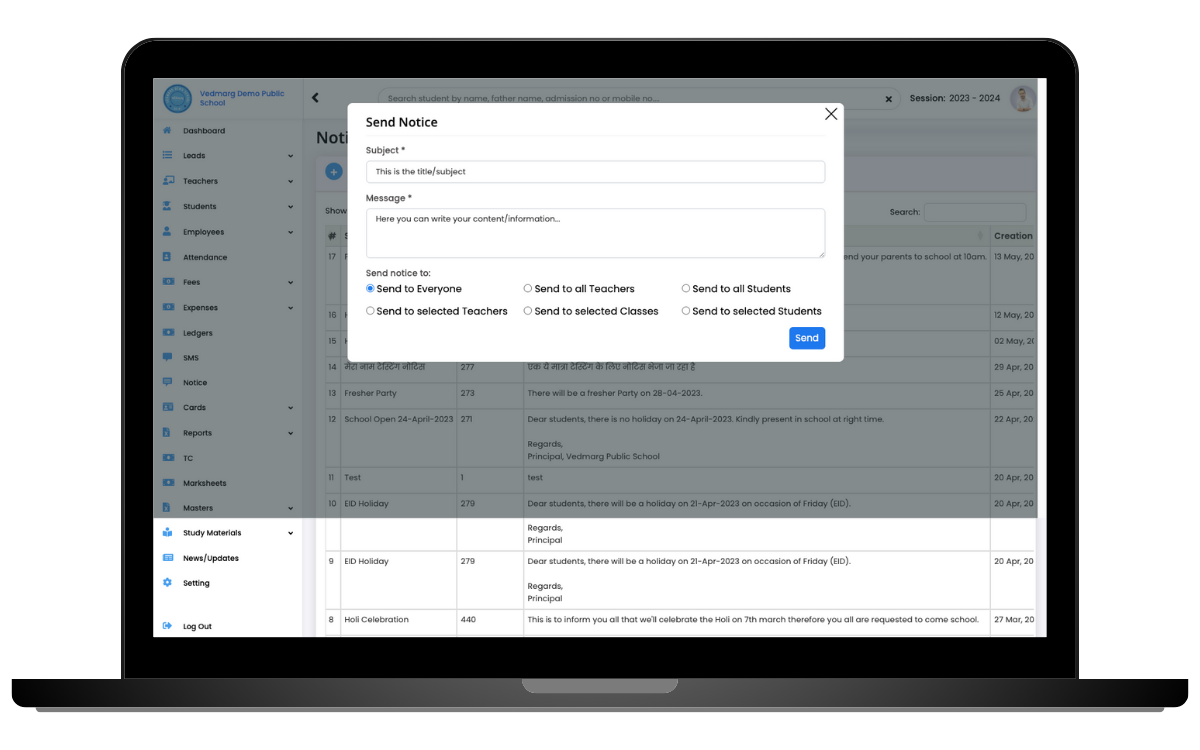 Step 6:

When you click on the '+' icon, you will get a popup with the subject line and message. When you are done with that, you need to select the recipients. It will give you 6 options here: Send to everyone,

Send to all teachers, Send to all students, Send to selected teachers, Send to selected classes, Send to selected students.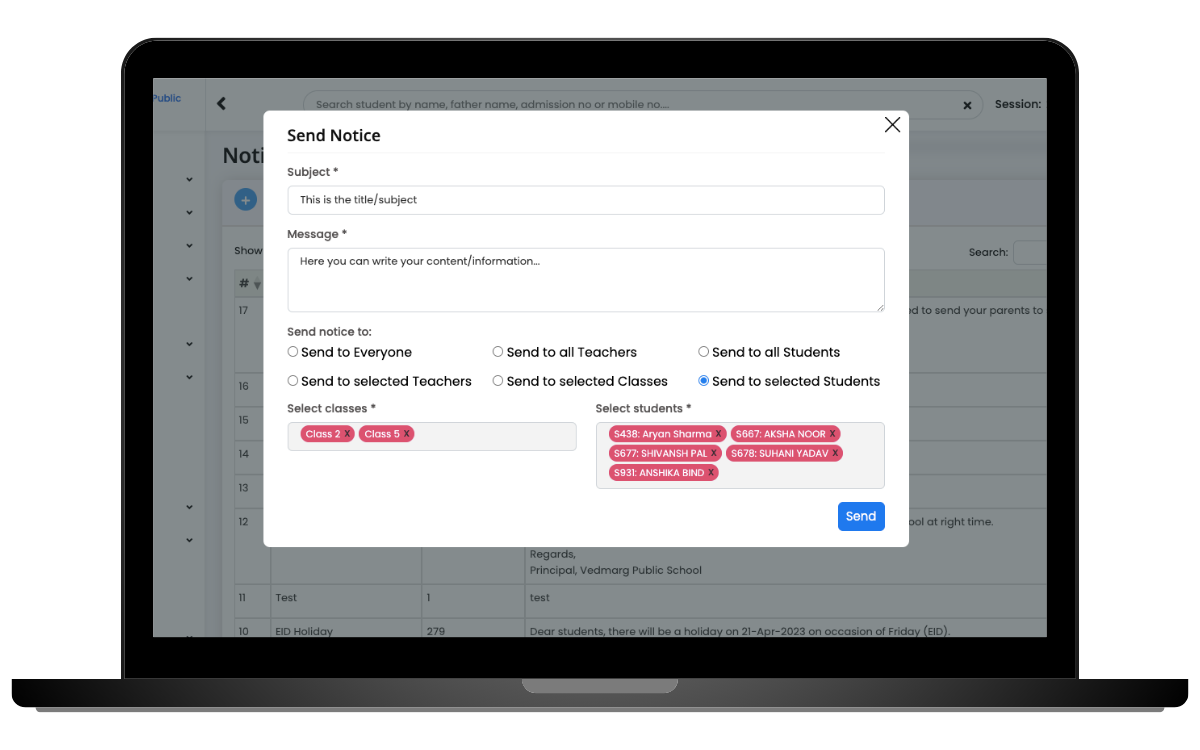 Step 7:

You can utilize the date filter to see the notices sent between the 2 respective dates. Moreover, you can export the same data in an Excel sheet in just 1-click.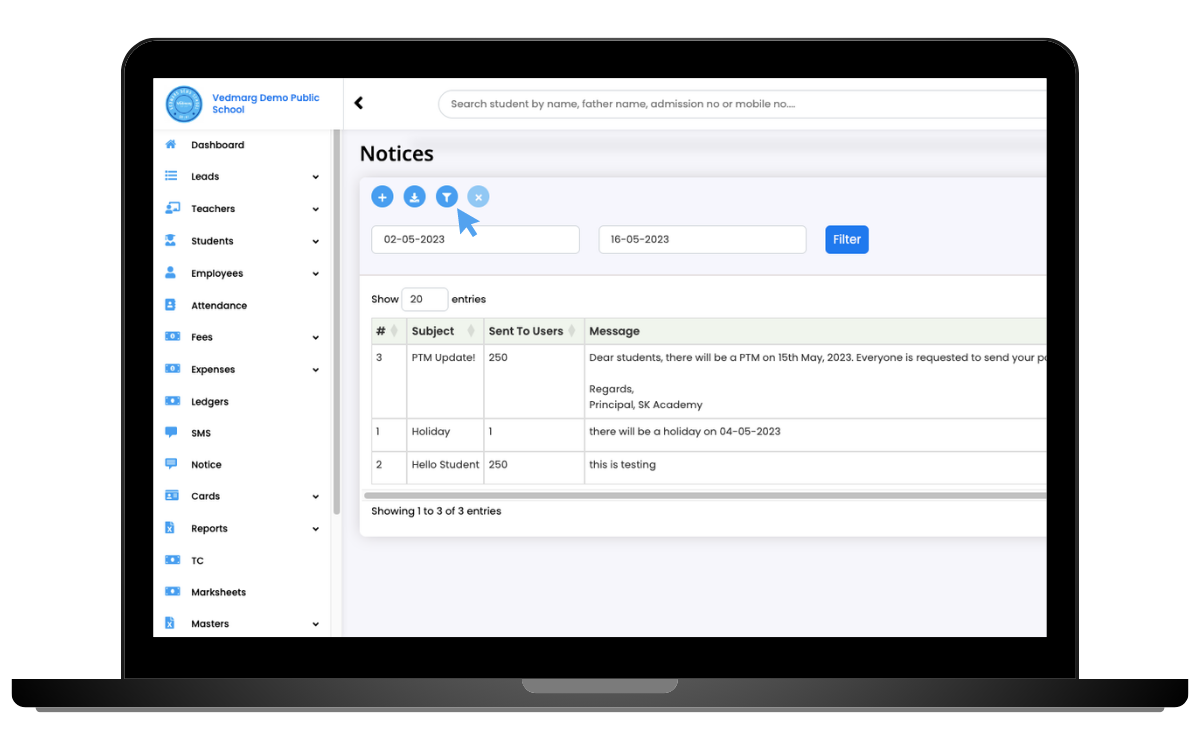 This way, Vedmarg School ERP System enables you to send a notice to students, and teachers smoothly and straightforwardly. 
Vedmarg team is always ready to listen their client's requirements and develop new features and modules every month. We are adding new modules to make student management system more user friendly and convenient. If you have any suggestions, please share with us and we promise to deliver!