Are you looking for a single-stop solution for School Management to manage the school/institute information comprehensively? If Yes, then you have landed at the right spot. Vedmarg School ERP Software with Mobile Application is extending a free offer to all the schools out there to administrate the tasks and activities without any limitations. So, here you will get free school management software with a mobile app or you can say that you will get free school ERP for your school.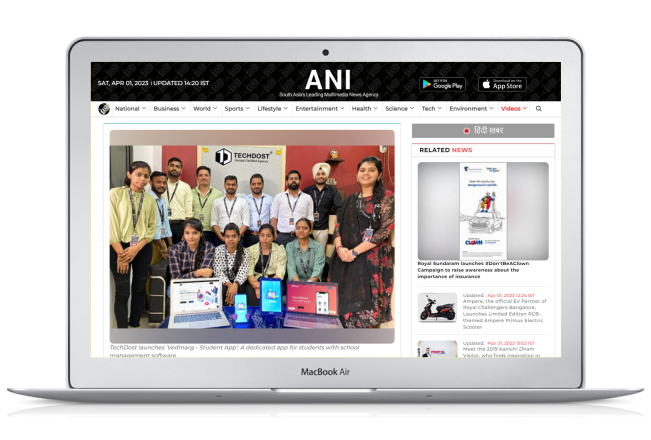 In this article, we have illustrated our exemplary features in detail. In addition to that, We have described the whole process by which you can avail the Vedmarg School ERP Software for free. 
Free School Management Software
Vedmarg Free Mobile Application is a competent school application software that is designed to simplify and accelerate the A to Z tasks of all schools/educational institutions. You can utilize our free school management application software for learning, monitoring, and managing management tasks of educational centers (schools, institutes, coaching centers). Currently, We have 2 mobile applications and both are free to download from the Google Play Store:
Vedmarg School ERP – Admin: Specially designed for the school's management team and staff to manage all the activities of their organization. This School ERP app is available on the Google play store free of cost.
Vedmarg Student App: This app is designed for students where they can access their data, information, fee records, attendance, and 20+ features. This student app is also available on the Google play store for free.
Free School ERP with Mobile Application
Our Free School Management Software is capable of handling everything associated with schools. From Admission to Fee Management, and Attendance to Transport Fee Management, the system is keen to assist you in every way. 
Features of Online Free School ERP Software
Let's have a quick look at the features of online free school ERP software at Vedmarg at no extra cost. We are providing 80+ modules in our Vedmarg web-based free school management software and also have all the same features inside our free mobile school ERP applications (apps).
Web-Based School Management Software
Vedmarg offers a centralized platform for all users to access information at any point in time. Your information is stored online. Therefore, you just need to have a strong internet connection to access the content from any location. Cloud software empowers security and mobility to a great extent.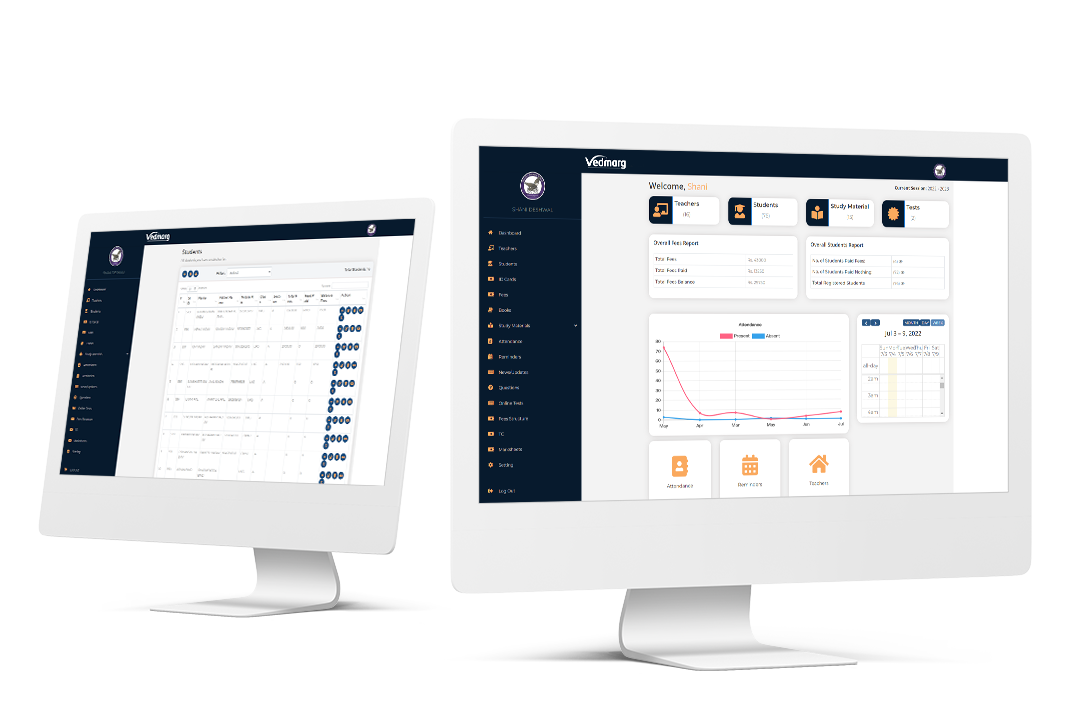 Fee Management Software: 
Facilitate the fee management process to manage the fee collection of schools substantially. Get rid of the long queues of students & parents at the fee counters, because such practices create a mess in managing everything smoothly. Furthermore, it takes more time and it is relatively expensive. All these issues can be significantly avoided by the School ERP System. 
Fills Up the Communication Bridge: 
Establishing seamless communication between all the stakeholders is indeed a crucial task because effective communication builds trust, transparency, and credibility. Our School ERP Software enables you to send real-time updates, and SMS to Parents, Students, and Teachers. Parents do not have to wait for PTM to get the performance insights of their wards.  
Attendance Management System:
Vedmarg ERP enables you to track the attendance of students, teachers, and staff members. The software uses RFID System and Biometrics to record the attendance of each individual. This way it inherits correct information and eliminates the chances of any disparity. Moreover, The parents will be informed via SMS if their child gets absent any day. 
Student Management Software: 
With Cloud ERP, The teachers and top officials of Schools can get detailed reports on the performance of students. In addition, It lets you generate a customized report empowered with filters to get the exact facts you are seeking for. 
Lastly, Teachers can share study materials and learning resources with students using this software. 
Admission Management Software: 
The traditional method of conducting the admission process is extremely daunting. To tone down the complexity of the Admission Process, Vedmarg Free School Management Software presents you to regulate and stimulate the admission management system in a convenient manner. 
Now the parents will get the entire information regarding the admission process in just 4 to 5 clicks. Effective Management plays a key role in enhancing productivity and decreasing the attrition rate of an organization.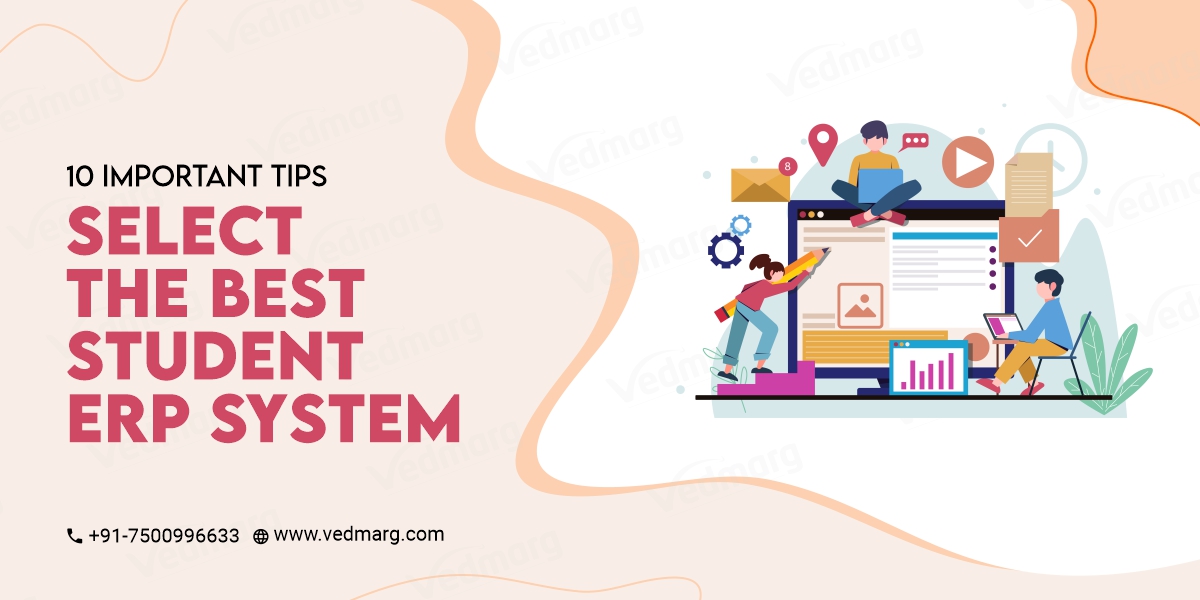 These are just a few top features of the 'Vedmarg – School ERP Software Mobile Application'. The software application is equipped with 60+ powerful modules to assist in managing, administrating, and monitoring school operations. 
The Vedmarg School Application is free of charge for the 30 days trial period. You can get in touch with us to avail the exclusive offer to see what wonders 'Vedmarg' can do for you. 
How To Get Free School Management Software with Mobile Apps
Visit our website: https://vedmarg.com

On the website of Vedmarg School ERP, you will get a form saying 'Get a Free Demo'. Apply for a demo by filling up your contact details

After getting the contact details, our team will contact you within 24 Hours. 

The team will share the demo login details with you and will set up your account. 

Now, you will get free school management software for your school/institute/coaching for 30 days at no cost. It doesn't require any credit card or upfront payment for this free service. 

Enjoy your free school ERP with complete modules and features.
Support Available 24×7
In any case, if you are having any questions, feel free to get in touch with us at WhatsApp: +91-7500996633 (just click to send Hi)
Make use of a 30 Days Free Trial to examine the performance of your school, and save your time, cost, and energy in handling the school management operations considerably. Call us at +91-7500996633 to get all the details.