Vedmarg is a Cloud Based School Management Software software specifically designed to monitor the day-to-day activities of an institute. The Online School Software enables Schools and Colleges to administrate the everyday tasks alongside managing all the information of the institute on a single platform.
In today's world, A large number of schools are operating cloud based School Management Software to improve the productivity and efficacy in performing and executing all sorts of organizational operations. The Vedmarg School ERP System Software is really useful in minimizing the extra pressure of handling the enormous data of schools and colleges.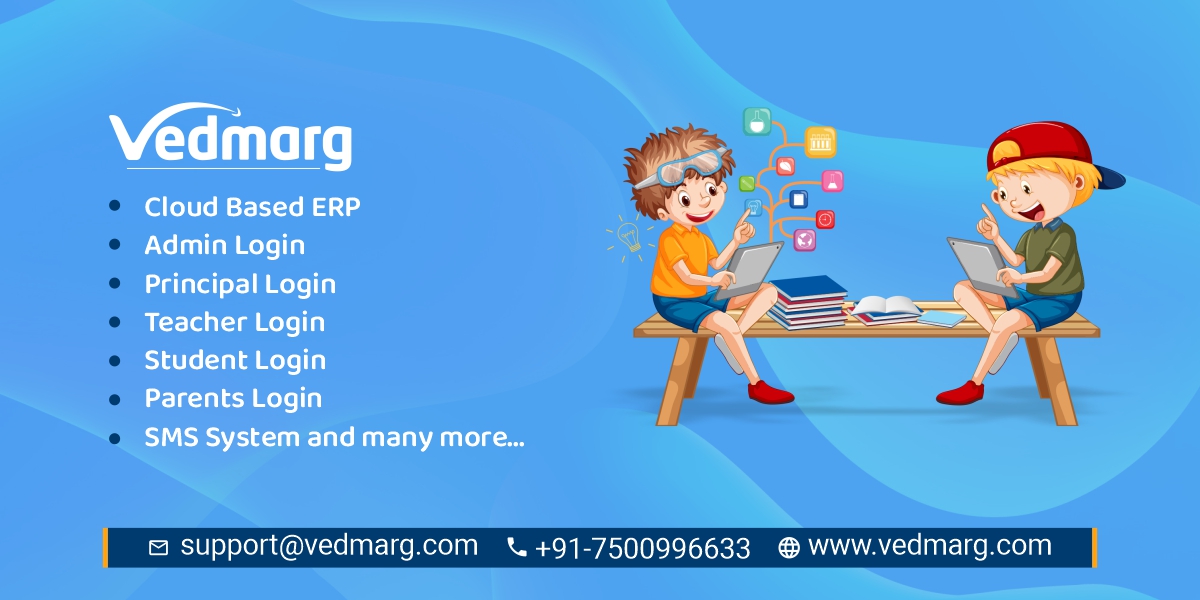 The capability of automation is the result that allows big institutes to maintain the record of all the students, teachers, fee structure of every student with his complete details, printing the report cards in 1 click, and maintaining the salary details of every teacher & other staff members. It also allows parents to monitor their child's performance and care for their educational needs. 
The traditional method of maintaining the institute's data using pen and paper has been effectively replaced by the cloud based School Management Software System which also results in minimizing the chances of error in data. Moreover, it also saves a lot of money and time, which allows teachers and staff members to work with more accuracy and precision.  
Now without hindering the process of administration, Schools can work with a more progressive and constructive approach than before. It is also helpful in providing a better and seamless education experience to all the students. Vedmarg's cloud based School Management Software is software that is developed and designed while keeping all the essential requirements of educational institutes in the mind. It lets the workforce save their energy which helps in improving productivity. Prompt, Reliable, and Convenient to Use are some features of Vedmarg's Online School Software.   
Why Choose Vedmarg Cloud based School Management Software?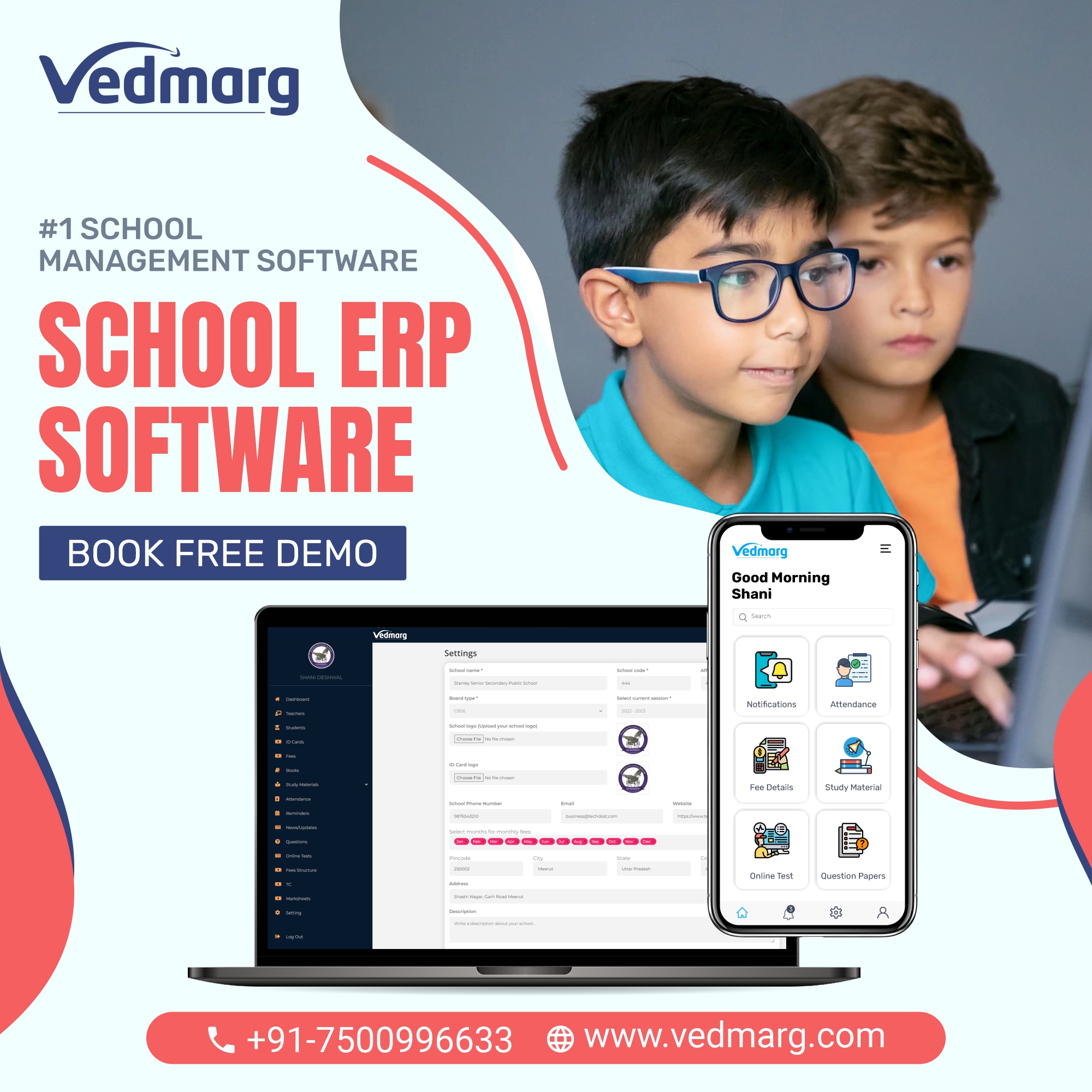 Vedmarg School ERP System Software is a powerful platform designed by TechDost that enables Educational Institutions to go paperless and simplify their way of working with the help of Automation. Our cloud based School Management Software is driven by cloud computing and furnished with present-day technologies that include: machine learning, data analysis, analytics, etc. This is the reason which makes it the most powerful Online School Software in India. 
Our cloud based school management software is ideal because it provides sky-high speed, a strong sense of security, and vigorous accuracy and it has tons of other benefits as well. Our Customer Care Team is always available to sort out the problems of our clients. We don't want to leave any stone unturned in assisting our clients to deliver the best as much as we can. It is the joint result of our School ERP System and services that 168 schools have been registered with us in just a short time.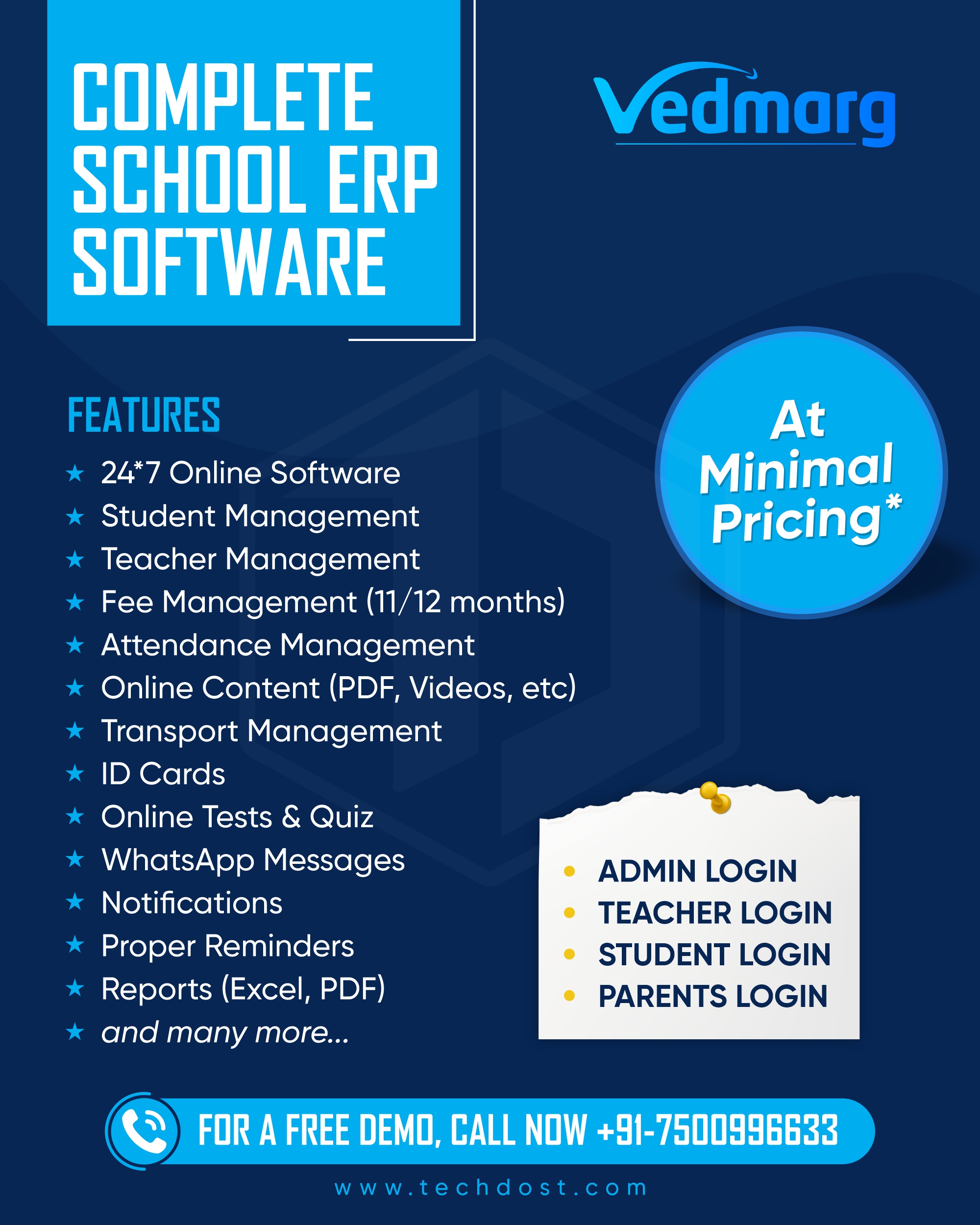 We have everything in our software that you are looking for. You just need to share your requirements with us, and we'll deliver you the best high-tech Online school software that is super fast and reliable at the same time for managing the activities of the school on one platform. 
Our Cloud based School Management Software consists of the following Modules: 
Online Student Registration

Student Information Management System

Staff Information Management System

Exam Management

Result Management

Library Management

Inventory Management

Payroll Management

Accounts Management

Transport Management System
Our Software Features are as follows: 
Simple UI:

The UI design of the School ERP System is easy to operate and understand for all the users to execute different operations without facing any difficulty.  

Web-Based ERP System:

Our cloud based School Management Software is completely web-based, which enables you to access it from any location by using an internet connection. 

Offer Data Security:

We ensure data security to great extent. Unlike storing data on decentralized databases that do not provide any security or recovery. 

Backup & Recovery:

Vedmarg is a Cloud-based School ERP System, therefore all the data is stored in the cloud which you can retrieve easily later on. Moreover, the backup is also automatic, so there is no hassle for data recovery. 

Live Support:

Our customer care associates are 24/7 available to assist you in case any problem comes. Vedmarg's support team will handle all your queries till the time the issue doesn't get resolved. 
If you are looking for cloud based School Management Software or Online School Software in India, then Vedmarg is just one call away. Contact us at 07500996633 to get all the details.